admin October 24th, 2007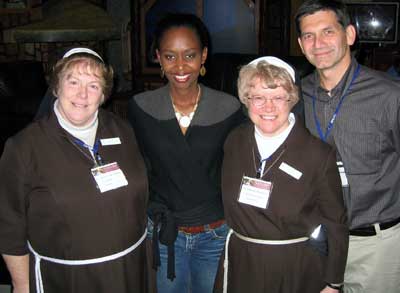 Welcome to our new updated site… we've gone Bloggy! For those of you who may have visited the site over the last year - you probably noticed the site remained the same… day after day and week after week and so on and so forth. Sort of like boring don't you think?
So we have changed the site to a blog and we hope that the didfferent Poor Clare houses will find it easy to post their news and events to share with you.
The picture above was taken a few weeks ago when Sister Marcia Kay and myself (Sister Patricia) from the Spokane, Washington Monastery - went to a Catholic Radio Convention in Birmingham, Alabama. It was a really great experience and we loved it. We are pictured with Ron Belter (the president of Sacred Heart Radio) and with Immaculée Ilibagiza who was the featured guest for the EWTN show, "Life on the Rock." We were part of the live audience.
For anyone reading this who doesn't know… our community manages the affliate radio station of Sacred Heart network in our monastery. It is just more than cool… I will share with you a picture or two later.
Truthfully we don't do that much to manage the station … but it sounds good. If it wasn't for Ron handling all the bells and whistles.. their would be a lot of dead air. Still we are learning to do more things.. and we do host a weekly program - Faith, Hope and Action. So hey we are taking baby steps!