poorclare February 26th, 2008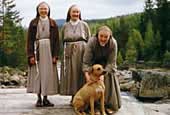 The Poor Clare Sisters in Norway have a new web site. The site is available in English, German and of course Norwegian. They welcome you to visit them.
Pictured above are three of the sisters and their dog… if you visit you will see their cat too! The site is wonderfully done and they would love to hear from you - you can send them a message here.
To celebrate the eighth centenary of the birth of St. Clare of Assisi, Sisters Francis, Elizabeth and Elaine  came to Larvik on St. Patrick's Day in 1995.
The community was officially erected as a foundation, sponsored by the monastery of Ennis in Ireland  on the Feast of St. Clare, 11th August 1997. read more